Breakfast Frittata
5 eggs beaten with 1/4 cup milk or substitute
salt and pepper
1/2 cup organic thin chopped mixed peppers and onion(this can be found frozen)
1/3 cup israeli feta crumbled
fresh basil
This is a very simple frittata and many variations are possible. Think about using artichoke, scallions, fresh tomato, parsley or even last nights leftover vegetables.Preheat a ten inch iron skillet with extra virgin olive oil. Combine eggs with vegetables and add to hot skillet. Add feta, salt and pepper. Cook on medium heat until sides begin to bubble. Remove from heat and set under broiler. Cook for additional minutes until center is not running. Serve with fresh basil and salsa.
---
Barb's Super Smoothie
Ingredients
1/2 cup frozen blueberries or other fruit
6-8 ounces coconut water or unsweetened almond milk
1 cup raw spinach
1 tbsp ground flax or chia seed
1 tbsp almond butter (or other nut butter)
1 scoop protein powder
1 scoop dried greens (optional)
ice cubes
Add all ingredients together and blend. Add more liquid if needed. Makes 1-2 cups of smoothie.
---
Eggs & Peppers, Shape approved
Ingredients
1 pepper
shell eggs
Slice one pepper into 1/2 inch rounds. Place the peppers on a seasoned griddle for 1-3 minutes and then crack the eggs directly into the peppers. Cook to preference and enjoy!
---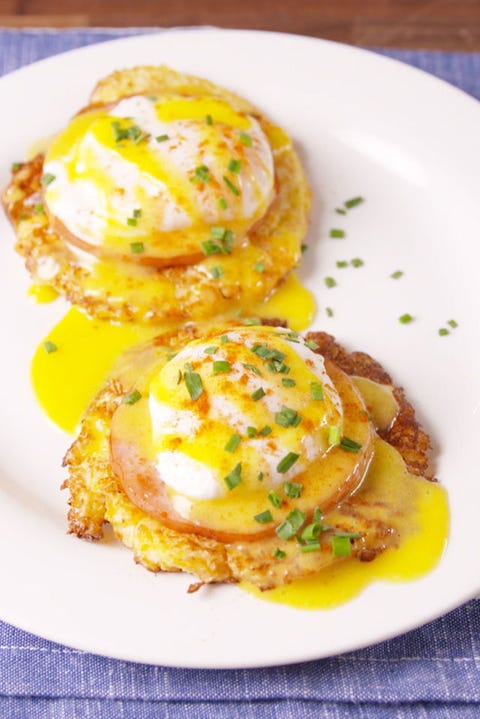 Cauliflower Benedict
Ingredients:
For the poached eggs:
2 large eggs

For the hollandaise sauce:
4 egg yolks
Squeeze of lemon juice
4 tablespoons grapeseed oil*
3 slices of low sodium turkey bacon*

Directions:
1. Make cauliflower patties. Grate cauliflower on box grater until shredded. Add to medium bowl and crack an egg. Add cornstarch and season with salt and pepper.
2. In a large skillet, heat oil on medium. Add spoonfuls of cauliflower mixture and shape into patties. Cook until brown and crispy.
3. Poach eggs: bring a saucepan of water to a boil then reduce to a low simmer. Create a vortex by stirring the water then drop in one egg. Let cook for 3 minutes then transfer with a slotted spoon onto paper towel. Repeat with second egg.
4. Make hollandaise. Discard all but two inches of water and bring to a low simmer. Set a heatproof bowl over saucepan to create a double boiler and add egg yolks. Add lemon juice and whisk until combined, then stir in grapeseed oil in a steady stream, whisking constantly, until combined. Season with cayenne and salt.
5. Serve cauliflower hash brown patties topped with turkey bacon, poached eggs, and hollandaise. Garnish with paprika and chives.

Source: Delish

https://www.delish.com/cooking...

---
Eggs, Spinach and Mushroom Skillet
Ingredients

1 (8 oz package) mini-bella mushrooms, chopped
1 (10 oz) package fresh spinach or about 5-6 cups firmly packed spinach
3-4 eggs
Salt and Pepper, to taste
Instructions
Saute the mushrooms n a large skillet until they are tender and have fully released their water about 6-8 minutes. Set Aside. (Use broth, water or coconut aminos to saute in)
Place the spinach in the frying pan or skillet that you cooked the mushrooms in. Add a little water, 2 tablespoons more or less. Using medium heat, cook the spinach just until wilted, about 2-4 mins. Use either your hand or a spatula to pack in the spinach.
Bring back the mushrooms to the skillet. You may season the vegetables lightly with salt and pepper at this point. Depending on the number of eggs you are using, create wells (if using 4 eggs, then 4 wells) in the middle by pushing the spinach and mushrooms to the side.
Crack an egg on each well. Season the eggs with salt and pepper. Cook until the eggs are fully set or to your preference roughly 5-6 minutes.