Mexican Hot Chocolate
Whipped Cream
1/2 cup heavy cream
2-3 drops of stevia
1/2 teaspoon vanilla extract (optional)
Directions:
Add heavy cream to a very clean & dry bowl.

Mix on high for 1-2 minutes until soft peaks form.

With mixer on medium speed, slowly add sweetener and extract and whip until stiff peaks form. Taste and adjust sweetener if desired.
Hot Chocolate
1 cup Heavy Cream
1 cup Water
5 tsp Raw cacao powder or unsweetened cocoa powder
1/2 tsp Vanilla Extract
1/2 tsp Pure Almond Extract
1-2 drops of stevia
1/2 tsp cayenne pepper
1 cinnamon stick
Directions:
In a medium saucepan, heat milk and water over medium heat.
When it begins to boil, switch to low and stir in cocoa powder, extracts and cayenne pepper. Heat until fully mixed and starts to thicken. Turn off heat and add in stevia drops.
Top with whipped cream and a sprinkle of cinnamon/ cinnamon stick!
---
Oven Fried Garlic Green Beans
Ingredients:
2 teaspoons MCT oil- or spritz of olive oil
2 tsp minced garlic
1 egg beaten
1/2 tsp garlic salt
2 cups fresh green beans
Sprinkle of Bragg's Nutritional Yeast flakes
Directions:
In a large bowl, whisk the oil, garlic, egg and salt together.
Toss in the green beans and coat well.
Pour onto a baking pan covered with parchment paper. Spread evenly.
Sprinkle with Nutritional Yeast.
Bake for 12-15 minutes or until golden.
To crisp, heat for a minute or two under the broiler.
---
Mashed "Potatoes"
Ingredients:
4 cups of cauliflower florets
1/2 cup chicken broth- no added sugar or oil
1 tbsp onion diced
1 tsp garlic, minced
1/4 black pepper
1 tbsp cottage cheese
Directions:
In a large pot, add cauliflower florets, chicken broth, onion and garlic. Cover and cook on medium heat until cauliflower is soft.
With a slotted spoon, transfer cauliflower to a blender or food processor, add cottage cheese, salt and pepper and blend until smooth.
---
Turkey and Gravy
Ingredients:
Turkey
Celery
Turkey Broth
Arrowroot powder
Water
Salt and pepper
Directions:
Cook turkey to desired state. Chop or shred.

Added chopped celery and turkey broth together in a pot. Bring to boil.

Add in a roux of (arrow root powder & water). Stirred in the roux to thicken. Stirring continuously.

Once started to thicken I continued to cook over low heat.

Add in shredded or chopped turkey.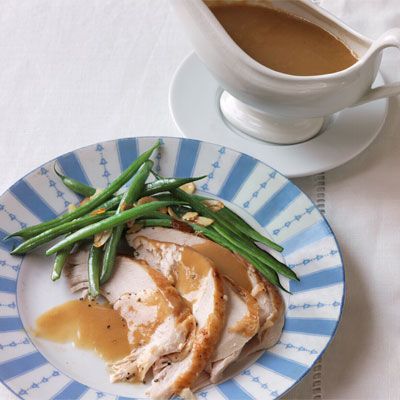 ---
Cranberry Sauce
Ingredients:
12 oz fresh cranberries (1 bag)
juice of two large oranges (about 1 cup)
Stevia drops - orange and berry flavored
Directions:
Add cranberries and juice from oranges to a pot and bring to a boil.
Drop heat to medium-high and stir frequently until cranberries have popped.
Add stevia drops until desired flavored is reached
---
Crockpot Turkey
Ingredients:
2.5 oz of turkey

2 cups chicken broth

3 cups water for boiling

bouillon cubes

your choice of vegetables, chopped
Directions:
Cut up all your veggies first.
Add turkey, chicken broth, boiling water, bouillon cubes and vegetables to crockpot and let cook.
---
Homemade Apple Sauce
Ingredients:
4 apples
1 teaspoon apple pie spice
16 drops of stevia
Directions:
Peel, core, and shop apples.
Place on aluminum foil that is large enough to wrap apples.
Sprinkle with apple pie spice and stevia drops.
Bake at 325 degrees for 15-20 minutes.
Blend in a blender or food processor.
---
Cauliflower Stuffing
Ingredients:
1 cup of celery, diced
1 onion, chopped
4 cups cauliflower florets, chopped
2 cups zucchini, diced
1 cup mushrooms, chopped
2 tsp Celtic sea salt
1 tsp freshly ground black pepper
1/2 cup vegetable broth, divided
1/4 cup parsley, chopped
2 tbsp fresh rosemary, chopped
1 tbsp fresh sage, chopped
Directions:
In a large saucepan over medium heat, add celery, onion and 1/4 cup of broth. Saute until onions are translucent.
Add cauliflower, mushrooms and zucchini and season with salt and pepper. Cook until tender, about 8-10 minutes.
Add fresh herbs and remaining broth and stir to combine.
Cover and let simmer about 15 minutes or until totally tender and liquid is absorbed.
---
Fall Apple Crunch Salad with Chicken
1 roasted chicken or 2 large chicken breasts baked
1 bag of shredded cabbage
1 Honeycrisp apple, julienned
2 tablespoons lemon juice
1 tablespoon apple cider vinegar
¼ teaspoon garlic powder
¼ teaspoon cinnamon
Dash of mustard powder
Salt and pepper to taste
SweetLeaf Stevia to taste
Toss cabbage with apples, lemon juice and spices. Allow to marinate for 30 minutes or overnight.
Just before serving, add 4oz rotisserie chicken (without skin) to each serving.
---
Red, White and Blue-berry Grilled Chicken
1 tablespoon olive oil
1 tablespoon paprika
1 teaspoon ground dried chipotle pepper
½ teaspoon cayenne pepper
½ teaspoon ground black pepper
2 cloves minced garlic
4 skinless, boneless chicken breasts
Blueberry sauce
2 ½ tablespoons of xylitol sweetener
1/3 apple cider vinegar
2 cups of blueberries
Salt and pepper to taste
Directions:
Whisk oil, salt, paprika, chipotle pepper, cayenne pepper, black pepper, and garlic in a bowl to make marinade. Place chicken breasts in marinade and turn to coat evenly. Cover bowl with plastic wrap and refrigerate for at least 2 hours.
Spread xylitol in a saucepan set over medium heat. Do not stir but watch closely as xylitol begins to melt after about 1 minute. When all xylitol has melted, remove pan from heat. Pour in vinegar and stir until xylitol dissolves.
Place pan over medium-high heat and add blueberries to the xylitol-vinegar mixture. Bring to a simmer, reduce heat to medium-low, and simmer until blueberries soften and mixture begins to thicken, 4 or 5 minutes. It should be a syrup-like consistency. If sauce seems too thin, simmer a few more minutes. If it seems too thick, add a splash of water. Stir in salt and pepper. Remove from heat.
Set a strainer over a bowl. Strain berries, using a spatula to push through as much juice as possible. Discard skins.
Preheat an outdoor grill for medium-high heat and lightly oil the grate. Drain excess marinade from chicken.
Place chicken breasts on preheated grill. Cook until no longer pink in the center and the juices run clear, about 4 minutes per side. An instant-read thermometer inserted into the center should read at least 165 degrees F (74 degrees C). Transfer chicken to a plate and allow to rest a few minutes.
Serve breasts on a swirl of blueberry sauce with more sauce drizzled on top.
---
Grilled Summer Dinner
Enjoy a great summer dinner on the grill. Whether it is from the garden or the farm stand this dinner is fantastic and easy to make.
Chicken breast cut into 2" cubes
Shrimp or 1" sliced sausage
Green, red and yellow peppers
Large onion
Zucchini
Tomato sliced 1/2"
Peaches sliced 1/2"
Season the meat with fresh ground pepper, salt, and garlic powder. Soy sauce is optional.
Combine all vegetables except tomatoes and peaches, and toss with Balsamic vinegar with a liberal amount of fresh ground lemon pepper.
Season peaches and tomato separate and keep aside.
A grilling tray is a must for this dinner. Oil your grill before setting the meat to cook. I like to cook the meat first for 5 min., then the vegetables and the fruit and tomato last. Enjoy!