Sourdough VeggieGuac Melt

2 1/2 inch slices of whole grain sourdough
2 slices of Swiss cheese
4 Tbsp. homemade guacamole
Fresh sliced tomato
Fresh sliced thin cucumber
Spicy mustard
Homemade Guacamole
1 large ripened avocado
1 medium tomato
1 lime
½ sweet onion
Dash of red pepper
4 Tbsp. fresh parsley and cilantro
Dice avocado, tomato, and onion. Squeeze lime into mixture. Add the red pepper, parsley, and cilantro.
Warm the sourdough bread for 2 mins. on lowest rack from broiler. Sourdough bread has the lowest amount of gluten in a wheat bread. If you are going to have bread it is your best choice. Add the Swiss cheese and broil until bubbly. Remove from heat and add spicy mustard, tomato slices, cucumber, and guacamole. Enjoy!
You can serve it immediately although it is better chilled for one hour or more.
---
Cauliflower Tater Tots
Ingredients
Ingredients
4 cups of cauliflower rice
2 tbsp jalapeno, finely diced
1/4 cup green onions, minced
2 eggs
2 tbsp flax seed, ground
1 tsp Celtic sea salt
1/2 tsp black pepper
1/2 tsp onion powder
1/2 tsp garlic powder
1/4 tsp baking powder
Olive oil cooking spray

Directions
Preheat oven to 400 degrees.
Put cauliflower rice in a microwave-safe bowl and cook for two minutes on high, stir, then cook for another two minutes. Let cool 1-2 minutes.
Spoon cauliflower onto a piece of cheesecloth or a fine mesh strainer (a clean dish towel will do in a pinch) and squeeze out as much liquid as possible.
In a large bowl, mix together cauliflower and remaining ingredients.
Line baking sheet with parchment paper and spray with cooking spray.
Using a tablespoon, scoop cauliflower mixture and squeeze into cylindrical shape in palm of hand. Place on baking sheet and spritz with cooking spray.
Bake 15 minutes until bottoms are brown and flip. Bake an additional 15 minutes or until brown and crispy.
---
Cabbage Rolls
Ingredients
1 1/2

pounds

to 2 lean ground beef, chicken or turkey

1

tablespoon

broth

1

large onion

chopped

1 stalk celery

chopped

1

clove

garlic

minced

1

small cabbage

chopped

2

ounces

cans diced tomatoes, no sugar added

14.5each

1

can tomato sauce

, no sugar added

8 ounces

1

teaspoon

ground black pepper

1

teaspoon

sea salt
Mix together raw ground beef, chicken or turkey.
Add in diced onions and celery.
Add in seasonings of choice. An Italian seasoning is tasty in this recipe. Set aside.
For ease of wrapping cabbage rolls, blanch big cabbage leaves to soften first.
Put one cup filler in cabbage leaf and roll up.
Place in baking dish, seam side down.
Pour tomato sauce over rolls and bake approximately 30 minutes at 350 degrees.
---
Asian Meatballs
1

lb

ground beef

or chicken or turkey

1/2

tsp

garlic, minced

1/2

tsp

ginger

fresh or powdered

Pinch of red pepper flakes

2

Tbsp

coconut aminos, divided

or Bragg Liquid Aminos or tamari soy sauce

1/2

beef broth

1

Tbsp

Xylitol

Optional

green onions, for garnish
In a large bowl, mix together beef, garlic, ginger, red pepper flakes and 1 tablespoon coconut aminos.

Form beef mixture into small meatballs and place in a non-stick pan.

On high heat, sear the meatballs until the outside is browned.

In a small bowl, mix together beef broth, 1 tablespoon coconut aminos and xylitol.

Add broth mixture to pan with meatballs and continue cooking until sauce thickens. (Add more beef broth to prevent burning and sticking, if necessary).

Top meatballs with green onions and serve.
https://shapereclaimed.com/recipe/asian-meatballs/
---
Stuffed Chicken Rolls
Ingredients
4 to 6 oz. chicken breast
Spinach
½ cup chicken broth or water
1 tablespoon chopped onion
1 clove of garlic crushed and minced
1 tablespoon lemon juice
Dash of onion powder
Dash of garlic powder
Pinch of cayenne pepper
Salt and pepper to taste
Instructions
Tenderize chicken manually by pounding until flat.
Cook spinach lightly with garlic, onion and spices.
Strain out excess liquid from the spinach and place mound of spinach in the center of the pounded chicken.
Roll up the spinach mixture inside the chicken breast.
Place rolls in baking dish and add chicken broth to the pan.
Bake the rolls in 350 degree oven for about 15 minutes or until chicken is cooked completely.
---
Zucchini Nachos
1 tablespoon of olive oil
2 medium zucchini
1/2 medium onion, finely chopped
1 pound lean ground turkey or ground chicken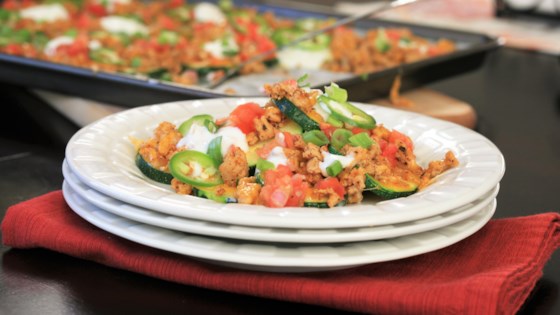 1 teaspoon chili powder
1/2 teaspoon paprika
1/2 teaspoon cumin
1/2 teaspoon garlic powder
1/2 teaspoon salt
1/4 teaspoon oregano
1/4 teaspoon ground black pepper
2 cups of cottage cheese
1/2 cup pico de gallo
1 jalapeno pepper, thinly sliced
3 green onions, green parts chopped
Source: AllRecipes- Zucchini Nachos
Directions:
Cut zucchini into 1/4-inch slices using a mandoline slicer. Place slices in a colander, sprinkle with salt, and toss to coat. Let drain for 30 minutes. Place slices on a clean kitchen towel and pat dry.

Preheat the oven to 400 degrees F (200 degrees C). Line a 12x18-inch baking sheet with parchment paper.

Heat oil in a skillet over medium-high heat. Add onion and saute until translucent, 2 to 3 minutes. Add chicken and cook until lightly browned, breaking meat up into small crumbles, 5 to 6 minutes. Drain and discard any accumulated liquid.

Return skillet to low heat and stir in chili powder, paprika, cumin, garlic powder, salt, oregano, and black pepper. Keep warm.

Place zucchini slices on the prepared baking pan in a single layer.

Bake in the preheated oven for 5 minutes.

Remove zucchini from oven and top with chicken mixture and shredded Cheddar cheese. Return to the hot oven and bake until cheese is melted, 2 to 3 minutes more.

Top nachos with dollops of sour cream, pico de gallo, jalapeno, and green onions. Serve immediately.
---
Crab Cakes Shape approved
1/2 cup diced celery

1/2 cup diced red or sweet onion
1 Tbsp Bay seasoning
1 Tbsp Dijon mustard
2 Tbsp Worcestershire sauce
1/4 cup chopped fresh parsley
2 eggs beaten
1 pound lump crab meat canned or fresh
8 oz arugula
Soften the onion and celery in a skillet. Add all ingredients together and form into cakes 1" thick.
Fry on seasoned iron skillet until golden brown, 5-7 minutes per side. Remove from pan and add 1/4 cup water to hot pan and arugula. Cover for 3 minutes. Remove from heat, add crab cakes and garnish with thin orange or grapefruit sections. Lime (or lemon) wedges squeezed on top adds a nice flavor.
---
Lime Sriracha Chicken Lettuce Wraps
Ingredients
2 lbs chicken tenders, diced
lettuce for wraps
grape tomatoes, any tomato will do
green onion
cilantro
lime juice
red pepper slices
onion slices
Marinade Ingredients:
Juice of 2 fresh limes - about 2 TBS
2-4 TB Sriracha sauce (more or less depending on your taste)
2 TB Xylitol
½ tsp. garlic powder
2 tsp. cumin
½ tsp. chili powder
½ tsp. sea salt
1 TB. water
½ TB. chicken broth (Phase II/III olive oil)
Instructions
Combine marinade ingredients well.
Place in medium glass bowl (cover), or use a gallon Ziploc bag. Add diced chicken .
Marinate 4 hrs. or overnight, refrigerate, turning to coat occasionally
Cook chicken in large, med-high preheated saute pan, with a spritz of cooking spray on pan
Saute uncovered until cooked through and outside is crispy or grilled.
On one side, cook the chicken, on the other grill the onions and red pepper slices.
Serve immediately on lettuce leaves with tomatoes, avocado (Phase II/III), green onion, jalapenos, lime juice and a dab of Greek yogurt on each wrap.
---
Chicken Salad Collard Wrap
Total: 20 minutes
Serves 4
Ingredients:
8 collard green leaves
¾ cup plain low-fat Greek yogurt
2 tbsp fresh lemon juice
1 tbsp Dijon mustard
4 cups white- meat chicken
2 stalks celery
2 scallions
½ cup dill
1 orange
Directions:
Bring a large pot of water to a boil. Fill a large bowl with ice water. Add 2 tsp salt to boiling water, then add 8 large collard leaves (stems cut off) until just wilted, about 30 seconds. Immediately transfer to bowl of ice water. Once cool, transfer to large kitchen towel and dry. In a bowl, combine ¾ cup plain low-fat Greek yogurt, 2 tbsp fresh lemon juice, 1 tbsp Dijon mustard, and ¼ tsp each salt and pepper. Add 4 cups shredded white-meat chicken and 2 stalks of celery (chopped) and toss to coat. Fold in 2 scallions and ½ cup dill (all finely chopped). Lay collard greens on a work surface; fill each with chicken salad, 1 orange (sliced), and wrap like a burrito.
---
Buffalo Chicken Dip
Ingredients:
8

oz

shredded chicken breast

canned works fine

1/2

c

greek yogurt

1/2

c

low fat cottage cheese

1/4

c

Frank's hot sauce

(more or less to your taste)

1

Tbsp

onion

(minced)

3

tsp

garlic powder

1

tsp

onion powder

1/2

Tbsp

nutritional yeast
Directions:
Mix all ingredients together except the nutritional yeast and place in an oven safe baking dish

Sprinkle the top of the dip with nutritional yeast

Bake at 375° F for 1 hour, until brown on top
---