Ingredients
whole spaghetti squash
sea salt
freshly ground pepper
extra-virgin olive oil, for drizzling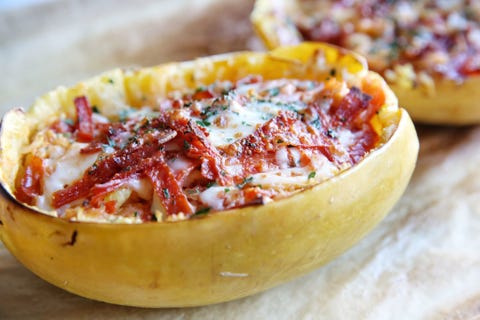 1 cup chopped uncured turkey bacon (Phase 2) or ground beef (Phase 1)
2 cups marinara, no sugar added
2 cups cottage cheese
1/4 cup chopped parsley
Directions:
1. Preheat oven to 400 degrees. Place spaghetti squash on a plate and microwave 5 minutes. Halve each lengthwise and remove any seeds. Transfer to a parchment- lined baking sheet, season with salt and pepper, and drizzle with olive oil.
2. Bake, cut-side down, for 30 minutes. Remove from oven and heat broiler. Source: Delish Spaghetti Squash Pepperoni Boats
3. Meanwhile, in a small skillet over medium heat, crisp pepperoni, stirring occasionally.
Transfer to a plate.
4. Loosen spaghetti strands using a fork. Add 1/2 cup marinara, 1/4 cup cottage cheese and 1/4 cup crispy pepperoni (or ground beef) to each baked squash half.Mix filling with a fork and top with 1/4 cup more cottage cheese and parsley. Return to baking sheet. Serve immediately.