Turkey Spaghetti Zoodles

Ingredients:
1 tsp extra virgin olive oil
1 1/4 ground turkey Source: AllRecipes.com Turkey Spaghetti Zoodles
1 cup diced green bell pepper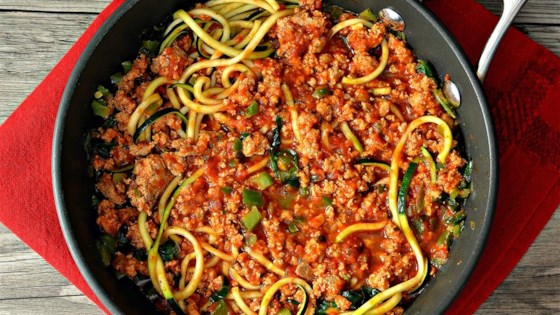 1 tbsp minced garlic
2 teaspoons Italian seasoning
1/2 teaspoon black pepper
1/4 teaspoon red pepper flakes
3 cups marinara sauce, no sugar added
2 cups baby spinach
4 zucchini cut into noodle shape strands
Directions:
Heat olive oil in a large skillet over medium heat. Add turkey, green peppers, garlic, Italian seasoning, black pepper, salt and red pepper flakes. Cook and stir until turkey is lightly browned.
Stir marinara sauce and baby spinach in the turkey mixture. Cook and stir until marinara is warm through, about 3 minutes.
Stir zucchini noodles into sauce with tongs. Cook and stir until noodles are slightly tender.